'According to usage and conventions which are at last being questioned but have by no means been overcome - men act and women appear. Men look at women. Women watch themselves being looked at' (Berger 1972)
What Berger is not saying is that women are vein

He is saying women internalise the gaze

Women have this effect of seeing themselves pictured
Hans Memling 'Vanity' 1485
Women stands with her hand on one hip and then holding the mirror with her other hand

Painting her nude because it gives him pleasure but by planting the mirror in her hand he is blaming the woman for her vanity

Because she holds mirror and looks at herself it is OK for us to look at her

He says that you painted this so that you could look at her body

In 1485 in Europe was around the time there was a statue of the hammer of witches which allowed the catholic church to prosecute women

Anything outside of the ideal at the time - If you drowned you were guilty
Alexandre Cabanel 'Birth of Venus' 1863
Invited by the artist to gaze upon the figure

Implies that the women invites us as well and doesn't stop us from looking
Deemed to be too sexual

Hand on the breast

Felt it was too sexual

Wouldn't pass the advertising standards

So they decided to turn it on the side when they published it

The emphasis therefore changes and it is more on the face and less on the body
Titian's Venus of Urbino 1538
Berger says the look in this woman's eye is a flirty invitation to look at her body

The feeling of someone spying on her with the curtain behind as if it is a private space we are allowed secret access to

The position of her left hand appears to be covering herself modesty but could also been seen as gesturing sexually
The slight different in pose to Titan's Venus of Urbino

There is a difference in the woman's gaze

She looks us in the eye

Hand is very different in the way it is placed

She is actually a prostitute

She is a modern nude and has the symbols of the jewellery on her right arm which implicates that she has some wealth

Presented as a gift from a suitor

Celebrating powerful female figure
Ingres 'Le Grand Odalisque' 1814
This photograph is used to create a gorilla image
Manet - Bar and the Folies Bergerers 1882
The mirror is used so that we are put in the position of the painting

The top right corner he is conversing with her

What is reflected in the mirror is the Paris society she isn't a part of

Highlights the superficiality of Paris at the time
Jeff Wall 'Picture For Women' 1979
The woman is copying the look of the bar maid in the previous image

Divided the picture in to thirds using the mirrors

Difficult to work out where you are in relation to the woman

The relationship between the artist and the woman

Captures the act of making the image

The photograph is constructed

In Manet's painting we are almost put in to the scene
The camera in contemporary media has been put to use as an extension of the male gaze at women on the streets

Figure of a semi naked woman normalised in to the streets

The people around are not taking any notice of her making it a normal thing to do

She is also wearing sunglasses which means that the gaze cannot be returned
Wonderbra Campaign Eva Herzigova 1994
Normalisation of the female body in the street

She is looking down at the people below

There is no return of the gaze

We are able to survey her body as an object
Corward R says the problem with the objectification of women makes women become considered as objects because of this confusion of images. The profusion of the images which characterises contemporary society could be seen as an obsessive distancing of women... A form of voyeurism (Peeping Tom, 1960).
Objectification of the male body
Head thrown above his head

As though he is closed

We are allowed to look at his body while he is sleeping

Dolce & Gabana ad - All of the males return our gaze
Can men be objectified? If so in what frequency is objectification in ads?...
Marilyn: William Travillas dress from The Seven Year Itch (1955)
She looks at the way that bodies are chopped up by the camera for hollywood films

Certain parts of the body will be chopped up

Projects fantasies

They do this so that we invest in the story

The females in the film are never the drivers in the story

They are not leading the narrative

They are passive characters

A cinema or lecture theatre are darkened to seduce us

One may look without being seen

Pleasure in looking has been split in the active male role and passive female role
Referencing an active mythological role

Part of her work is that she wants to reposition the role of women in art history

Women have generally been left out of art history

Her work is about repositioning women
Women 'marginalised within the masculine discourses of art history'
Cindy Sherman "Untitled Film Still 6" 1977-79
She brings her hand to her face with almost mimicks the other images

There is something not right about this image

It looks staged

It doesn't look natural

This image challenges the gaze in this way

We are not allowed to look at her without feeling awkward
Barbara Kruger 'Your gaze hits the side of my face' 1981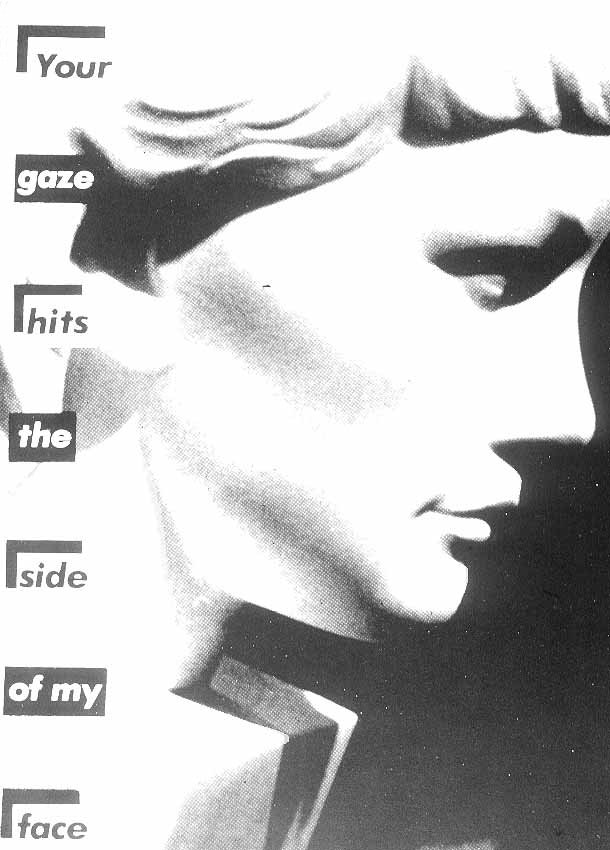 She uses this text which is very much giving a cut out feel

Reference to some kind of violence

The idea of why can't we look at female bodies
Sarah Lucas 'Eating a banana' 1990
Humorous

As if so say what are you looking at?
Sarah Lucas Self Portrait 1996
Again slightly humorous but still showing someone with a flat chest
Why is it important to have challenges to the gaze?
It is important to have these challenges to the gaze because we still have page three

Caroline Lucas MP in June 2013 was asked to remove the top she was wearing because it went against the dress code of the house of commons
Criadp-Perez argued that as the Equality Act 2010 commits public institutions to end discrimination. She received up to 50 threats a day via Twitter including threats to rape and murder. Although she reported the abuse lost evidence and she was forced to delete her account.
Lucy Ann Holmes, who founded a campaign to end the publication of the topless Page 3 Girls in The Sun newspaper last year, told the BBC that while she had also received death threats, she had not been subject to the level of sustained attack experienced by Criado-Perez.
Social networking is used to perpetuate the male gaze/the gaze of the media. The body is broken in to fragments - Could be any female. Plays on the teenagers body consciousness, potentially carrying those perceptions in to adult life.
Appears to offer us the position as the all seeing eye the power of the gaze

Allows us to voyeuristic passive consumption of a type of realirt

Editing means that there is no reality

Contestants are aware of their representation (either as TV professionals or as people who have watched the show)

For example Big Brother

We can see them but they can't see us

We are able to watch men and women
"Looking is not indifferent. There can never be any question of just looking."