Screen printing:
Screen printing is a printing technique that uses a woven mesh to support an ink-blocking stencil to receive a desired image. The attached stencil forms open areas of mesh that transfer ink or other printable materials which can be pressed through the mesh as a sharp-edged image onto a substrate. A fill blade or squeegee is moved across the screen stencil, forcing or pumping ink into the mesh openings for transfer by capillary action during the squeegee stroke. Basically, it is the process of using a stencil to apply ink onto a substrate, whether it be t-shirts, posters, stickers, vinyl, wood, or other material.
Screen printing is also a stencil method of print making in which a design is imposed on a screen of polyester or other fine mesh, with blank areas coated with an impermeable substance. Ink is forced into the mesh openings by the fill blade or squeegee and onto the printing surface during the squeegee stroke. It is also known as silkscreen, serigraphy, and serigraph printing. One colour is printed at a time, so several screens can be used to produce a multicoloured image or design.
Embossing:
Embossing refers to the creation of an impression of some kind of design, decoration, lettering or pattern on another surface like paper, cloth, metal and even leather, to make a relief. In regular printing or an engraving, plates are pressed against the surface to leave an imprint. In embossing however, the pressing raises the surfaces adding a new dimension to the object.
I found a very good website which explains the processes involved in embossing here.
Laser-cutting:
Laser cutting

is a technology that uses a

laser

to cut m2aterials, and is typically used for industrial manufacturing applications, but is also starting to be used by schools, small businesses, and hobbyists. Laser cutting works by directing the output of a high-power laser, by computer, at the material to be cut. The material then either melts, burns, vaporizes away, or is blown away by a jet of gas,

leaving an edge with a high-quality surface finish. Industrial laser cutters are used to cut flat-sheet material as well as structural and piping materials.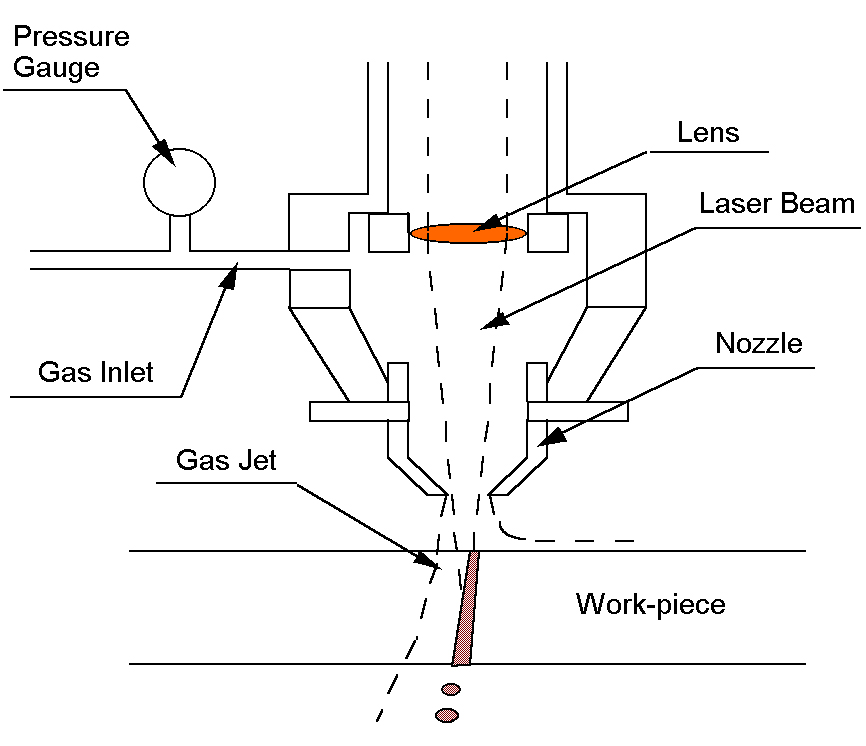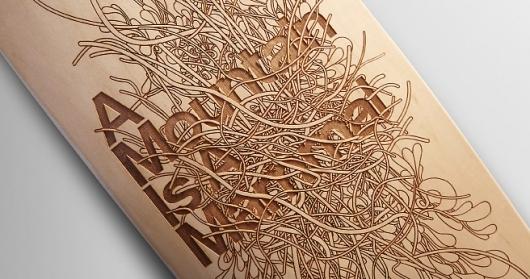 Letterpress:
Letterpress printing
is a technique of relief printing using a printing press. A worker composes and locks movable type into the bed of a press,
inks
it, and presses paper against it to transfer the ink from the type.
In practice, letterpress also includes other forms of relief printing with printing presses, such as wood engravings, photo-etched zinc "cuts" (plates), and linoleum blocks, which can be used alongside metal type in a single operation, as well as stereotypes and electrotypes of type and blocks. With certain letterpress units it is also possible to join movable type with slugs cast using hot metal typesetting.
Letterpress printing was the normal form of printing text from its invention by Johannes Gutenberg in the mid-15th century until the 19th century and remained in wide use for books and other uses until the second half of the 20th century. Letterpress printing remained the primary way to print and distribute information until the twentieth century, when offset printing was developed, which largely supplanted its role in printing books and newspapers. More recently, letterpress printing has seen a revival in an artisanal form.
Lino-printing:
Linocut is a printmaking technique, a variant of woodcut in which a sheet of linoleum (sometimes mounted on a wooden block) is used for the relief surface. A design is cut into the linoleum surface with a sharp knife, V-shaped chisel or gouge, with the raised (uncarved) areas representing a reversal (mirror image) of the parts to show printed. The linoleum sheet is inked with a roller (called a brayer), and then impressed onto paper or fabric. The actual printing can be done by hand or with a press
Foiling:
Foil stamping, typically a commercial print process, is the application of pigment or metallic foil, often gold or silver , but can also be various patterns or what is known as pastel foil which is a flat opaque color or white special film-backed material, to paper where a heated die is stamped onto the foil, making it adhere to the surface leaving the design of the die on the paper. Foil stamping can be combined with embossing to create a more striking 3D image.